One of the places I have been set on going to see this fall is the Chiricahua Mountains of far SE Arizona. Diane mentioned to me several weeks ago that her friend Christine would be in town and we could spend a night in Bisbee.
We set off early Saturday morning and make our way through Globe into Safford before heading South towards the Chiricahua's. This area is most famous for the Apache Indian Wars that took place in the late 1880's. Names like Cochise and Geronimo were a big part of my childhood, and I am excited to be able to walk in the area they did.
Sorghum Fields near Mount Graham Arizona. This crop is something I am seeing quite a lot of this year all throughout SE Arizona. Pretty interesting food that comes from Africa.
The Jeep at the base of the Chiricahua Range. This is where Geronimo held out against the US Army. These mountains just rise up out of the desert. Very cool
We drive through Portal Arizona and make our way into the National Forest. There is a pretty good Border Patrol presence here and we see several trucks even on the dirt tracks we use to cut the corner to the parking area. As you drive in the change of plant life is stunning in you go from open desert to lush forest in about 1/2 mile.
The road into South Fork has a lot of trees changing colors and there is light traffic as mostly serious bird watchers and hunters use this area. We see a lot of hunters on the road.
We park the Jeep at the trail head and have a great lunch before setting off on our hike. We have already done over 250 miles from my house just to get here but the area is beautiful. We are all in great spirits though I think I am catching a small cold.
Christine finds a great place to check out the area from. She is a lot of fun to have on the trip and is a great sport. Rare to meet someone and be able to travel with them so well. I hope she comes out from KC more often to visit.
The area is full of trees that you don't see very often in Arizona The Aligator Juniper is one of those trees.
Some of the other trees are pretty darn big as well
Fall is here and the color changes against the Red Canyon Walls make for some amazing sights. We are lucky because there are few other people in the area and we set off down the trail.
As usual, all hype about bears but my bearless streak continues. I will see one this year. You just wait!
The forest has some really amazing plants like this Yucca that looks out of place away from the desert floor.
I marvel at the beauty of the small as well as the big. Glorious times and we laugh a lot as we wander up the creek. The sounds of birds and water put one at ease.
Diane and Christine pose for me at the sign showing we are now entering the wilderness area. I am a little cautious here because the area is close to the border and some smugglers use the rugged terrain to ferry in drugs and people. You have to be vigilant out here.
Of course Diane has no desire to take the easy way. We spend a lot of time finding the trail on this hike mostly because we don't pay attention to the trail as much as we should. It just means we need to practice more in the coming months.
It is so fun to be able to act like a 12 year old some days. The drop is about 10 feet to the creek floor but you can't tell in this picture.
We wander up the stream bed for a while. I find a lot of cool rocks and things that
catch my eye. There is little conversation as we just get into the rhythm of the forest
The trail is empty for the most part but I did come in contact with a fellow Red Hat Cool Vest Member. Never do ask his name though.
Diane even found us a great place to camp…except you can't camp along the South Fork. Details my dear details.
Here is a picture of the luckiest guy in the world and the reason why.
We have about a hundred more miles to drive and head back to the Jeep. We make it out and drive out along the Northern rim of the mountains heading towards Bisbee
The area is stunning and has a lot of great opportunities to explore further.
We stop briefly here at the monument but doen't go in as we are on the trail of a rumor that the SandHill Cranes are back in the area for the winter. We are definitely coming back though as both Diane and I fall in love with the area.
As we drove from the monument towards Douglas, I count a big raptor about once every 25 telephone poles. The habitat is just perfect for them here. This Red Tail Hawk is one of the most beautiful birds I have seen. I doen't have the heart to tell him he has a feather out of place though. You can see a piece of fur from his last meal sticking out of his beak even.
We go to the WhiteWater Draw area just as the sun is setting and are greeted by one of the biggest flocks of cranes I have ever seen. It is so worthy. Here they are coming in wave after wave of birds for several minutes. There had to be almost 500+ birds there.
And I thought landing on a carrier was tough. These guys have no Air Traffic Control. Amazing to watch them come in and land
Something spooks them as we were getting ready to leave and they take off as a huge group. This is about 25% of the flock that I get in the frame. Amazing
We get into Bisbee after dark and find our way to the School House B&B that Diane has booked for us. It is a very nice place and we decide to go downtown for dinner. I am feeling a cold coming on though which is a bummer.
Did I mention that I was the luckiest guy in the world yet?
Bisbee's Main Drag Sunday Morning. The shops are mostly closed still but we wander down doing some window shopping.
Worthy Sign
Sometimes worthy art is right at your feet. I would love to hear the stories this old man hole cover can tell.
A return trip is definitely in the plans. Maybe on the moto.
We make our way up towards Kartcher Caverns and stop in Tombstone. I am really not feeling all that great so I let the girls go wander the streets while I nap in the Jeep. Tombstone is too commercial for me in many ways and I think that helps put my mind at ease about missing out.
This Hombre though makes me smile as he walks to work. Gotta dig the sombrero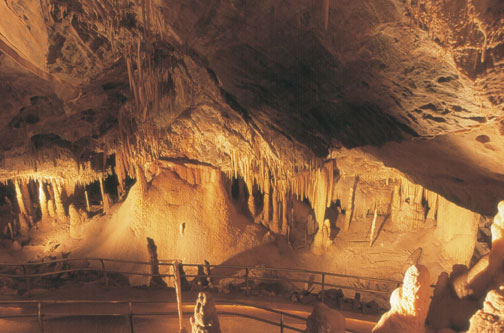 (Photo Above: Big Room at Kartchner Caverns State Park. Courtesy of Arizona State Parks)
There is no way to do justice to just how cool Kartchner Caverns is. You can't take a camera into the place but I will be back a lot over time because it is one of the most spiritual places I have ever been to. Uber Worthy
This flower outside the discovery center at the park catches my eye. I am lucky because I get to live in one of the most diverse places on Earth and have wonderful people to share the trip with.
Postscript: I came home to discover that I had Bronchitis (I am sure the moist cave air didn't help) and have been on some pretty high doses of antibiotics. Should be back in the saddle soon though.